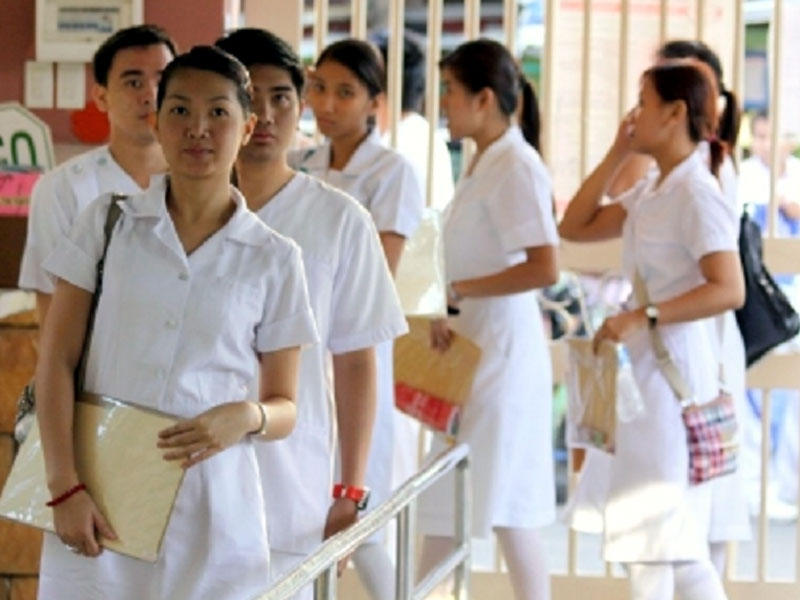 Photo credit: http://globalnation.inquirer.net
Vital Signs Column
NURSE'S NOTES
By: Alvin Cloyd Dakis, RN
November 15-30 Issue
In the recent times, taking Nursing in the Philippines would mean one taking the possibility of working abroad, migrating and leaving home. With the increasing demand for Filipino nurses to work abroad, issues on migration become exponentially increasing.
When I graduated and became a registered nurse, my family would often ask me if I will now leave the country and pursue the American dream. My relatives and some friends would also ask the same. All wanting me to live an economically better life - a life that is way better of any common nurse serving the country. But time and again I kept failing them when I graciously decline and decided to stay.
But I cannot blame parents to ask (and some force) their children to take up one of the most globally in-demand health profession. Many of them would somehow hope their offspring would be the keys to the gates of everlasting prosperity. Also, many young people hoped this would be their stepping stone to the greener pastures.
Setting aside all other reasons for wanting to leave the country, what astounds me is the fact that these fellow Filipinos have to go through a lot just to chase that dream of having an economically better life.
I've heard and seen different stories, some to my horrors others to more horrid ones. From the long waiting lines, processing documents and shocking amounts of payments in Pesos, these Filipino nurses will not be stopped at anything.
Some friends have been waiting in line since 2005 and is still stuck in the country until now. I salute them for their patience and to sticking to that one goal - to work abroad. That long time is a test of their determination and living hope. Some after how many years of patiently waiting gained their access and chance of uplifting their lives, started yet another wave of difficult processes - getting that employment abroad.
Some nurses would need to pay a reservation fee that's beyond P50,000. And that's just a reservation fee. If you think that stories of parents selling their houses or even carabaos just to get their children work abroad and pay all those fees, are just stories then you are definitely wrong. Because these stories are true.
And just as you thought that working abroad will give you sweets in life - frankly there are many bitter stories as well. I am not sure if all of these are documented and I hope that these are also well attended by our government agencies.
Leaving home would not ensure true sweetness. But if leaving home would make it better for the lives of those you love, then all hardships they would be facing, they will have to endure. I am hoping that Filipino nurses would remain true to the calling of our profession even though they migrate and work in any other country and even if they work abroad because of economic needs.
***
AYNLA conducted a successful Community Town Hall Assembly dubbed as "Usapang KP sa GenSan" recently, November 09, in Barangay Bula General Santos City in South Cotabato. One of the highlights of this town hall assembly was when the community people who attended agreed to be unified to help DOH and their local government to campaign and help achieve a universal health care program in the Philippines.
The 1st NCR Zonal Conference of Nurse Advocates will be held this December 12-13, 2012 at the Fuller Hall of the Asian Institute of Management. This conference will be discussing the essential building blocks of Universal Health Care together with different key health reform leaders and former Secretaries of Health. We encourage nurses, students and health advocates to join us in this momentous event. This is co-presented by the Asian Institute of Management - Dr. Stephen Zuellig Center for Asian Business Transformation, the Universal Health Care Study Group of the National Institutes of Health and the Department of Health. For more inquiries please visit www.aynla.org.