This is the transcript of my responses to the questions of the Asia 21 Philippine Young Leaders Initiative nomination process.
Asia 21: As a leader, what is your vision for the country?
Me: I envisioned a country of fairness, equality and equity; a country with leaders of reason, responsibility,
justice and accountability. A nation whose health and education of its people are the top priorities,
where such services are accessible, affordable and sensitive to the needs of the poor, marginalized and
the most vulnerable.
Asia 21: What particular social problem/s (e.g. illiteracy, lack of employment, etc.) would you like to address?
How do you propose to go about this?
Me: As a health service professional I focus on health-related issues. As a youth leader I also focus on
issues concerning the youth and the People with Disabilities (PWDs). For most of my advocacy, I
was drawn to help draft legislations of the Congress affecting health, the young people and the
marginalized. I was one of the youngest members of the Technical Working Groups that drafted the most
controversial bill, the Reproductive Health Bill in both Houses voicing the nursing and youth sectors.
I also belong to the core groups reviewing the Anti-Discrimination Bill and the amendment of the
Philippine National AIDS Law.
My political lobbying & advocacy also extends to addressing the nursing
crisis in the country serving as the voice of young nurses in Congress during the nursing volunteerism-for-a-fee controversy & nursing unemployment crisis. I also teach and inform a lot of
people of my advocacy through online media as a blogger, independent writer and performing artist/singer.
Asia 21: What do you expect from the Philippines 21 Young Leaders Initiative?
Me: Further learning is always expected in all endeavors. I expect to develop and hone my leadership skills
through my interaction with different young leaders & networking with them. I also expect to exhort
some young leaders join me in my advocacy and or help them lobby for their different advocacy.
To date, I got an email from them and got accepted to the Final Screening Process. The next is yet to reveal.
Honestly, I am not expecting much. Just as the adage goes, "Expect for the worst, but hope for the best!". So if I won't get accepted, at least I tried. And if I did get accepted, then it would be my honor to represent the country together with the rest of the 20 other young leaders.
***
The Asia 21 Philippine Young Leaders Initiative
Twenty-five years after a generation of freedom fighters toppled a dictatorship, a new crop of game-changers are emerging. Asia Society-Philippineshonors dynamic individuals who are at the forefront of change in their respective fields, through thePhilippines 21 Young Leaders Initiative. A flagship program of Asia Society-Philippines, the Philippines 21 Young Leaders Initiative aims to develop a nationwide, multi-sectoral network of change-makers, who will meet, educate and inspire each other, collaborate and share ideas on public service and other meaningful initiatives, and build relationships of trust and understanding.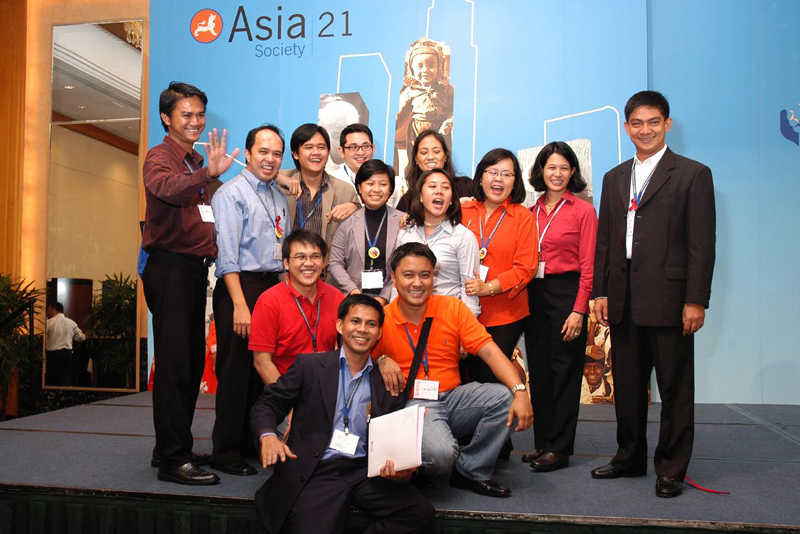 Nominees must be between 25-40 years old, of Filipino citizenship, and have substantial leadership experience in their chosen field, including but not limited to the following: academe, business, civil society, media, arts and culture, military, and government. Prospective Philippines 21 Fellows must also demonstrate a commitment to devote time and effort to achieve the goals and projects set by their Class.
Upon selection as a Philippines 21 Fellows, the Class of 2010 will convene at a two-day forum where they will engage in roundtable discussions on issues concerning the Philippines and the Asia Pacific region. This will be in preparation for their participation in the international program, with the ultimate goal of developing projects to address these issues. The annual Forum is held in the last week of August.
Philippines 21 Fellows serve as the country's official delegation to the Asia 21 Young Leaders Summit, organized annually by Asia Society's New York headquarters. This year's Summit, (date and location TBD), will bring together some 200 of the most dynamic next generation leaders from Asia and the United States.
The 2010 Fellows join an illustrious roster of Fellows such as the eminent DNA scientist Cora de Ungria, IT and gaming entrepreneur Enrique Gonzalez, CNN 2009 Hero of the Year Efren Peñaflorida, Jr., and Rags2Riches president Rolex Young Laureate Reese Fernandez.
.